Delicate and deliciously caramelly Lotus Biscoff has dethroned the likes of Nutella and Oreo in the pantries of pastry chefs across the country. The crumbly texture of the cookies, when combined with the rich, sweet flavor of Biscoff-flavoured spread, makes for an indulgent addition to beverages and baked treats. From delicate kunafa to rich tiramisu, we round up a list of must-try Lotus Biscoff desserts in India.
Walk into a patisserie in India, and chances are you'll find an inviting, decadent Lotus Biscoff dessert sitting pretty in the display. This shortbread cookie has a deep caramel flavor with hints of spice and is Belgium's gift to the world. Traditionally eaten alongside coffee, Biscoff's claim to fame was its role as a luxurious airline snack.
In early 2020, USA-based Delta Airlines received a flurry of complaints when it decided to switch Biscoff, which it had been serving since the 80s, with Oreo thins. And two days after a food editor wrote, "You can take my legroom, but you can never have my Biscoffs," the snack was back on board.
Since then, the treat has made its mark across the globe, featuring in all things snack- and slurp-worthy. Many bakers began replacing the traditional Graham Crackers and chocolate with the ingredient, experimenting with it in ice creams, cakes, mousse, and even macarons. Today, it floods the Instagram feeds of baking enthusiasts and professional kitchens alike, solidifying its place in menus of culinary establishments across the country. Needless to say, the Biscoff hype is here to stay. And if you love its buttery, caramel flavour, we've curated a list of the best Lotus Biscoff desserts in India that are unmissable.
These 15 spots serve up the most delicious Lotus Biscoff desserts
Oasis, Mumbai

99 Pancakes, Mumbai

My FroYo Land, Mumbai

The Dough Therapy, Mumbai

Essange, Mumbai

Delight, Mumbai

Cookie Tree, Kolkata

Caramella, Kolkata

Dumont Creamery, Bengaluru

The Baklava Company, Bengaluru

Uncle Peter's Pancakes, Bengaluru

Super Donuts India, Delhi

Burma Burma, Delhi

Cheesecake and Co, Delhi

Over Easy, Delhi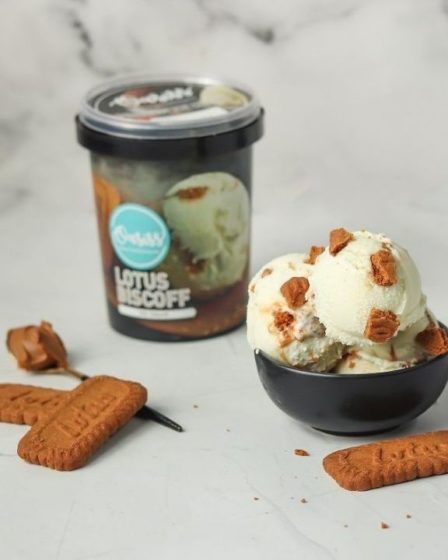 Unadulterated, creamy ice creams are Oasiss' specialty. On their menu are unique flavors of the frozen treat, including cotton candy, immunity booster, and jelly belly. They also serve up flavored chocolate beans, cakes, and brownies. A popular feature in this lineup is their creamy ice cream with smooth, silky ribbons of Lotus Biscoff spread and crunchy Lotus Biscoff cookies.
Image: Courtesy Oasis Desserts
Address
Senapati Bapat Marg, near Baghban Florist, Lower Parel, Mumbai, Maharashtra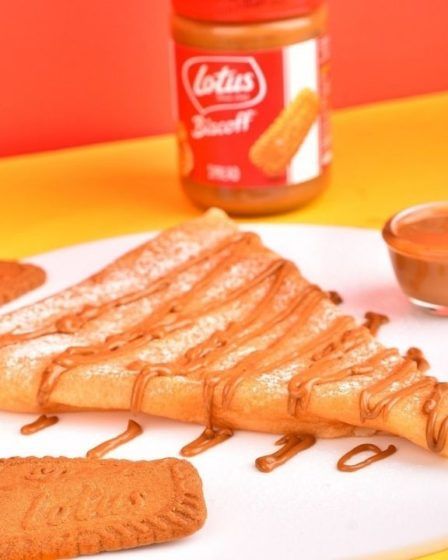 Few places in the city know their way around pancakes the way 99 Pancakes does. The outlet first opened in Kala Ghoda and has now expanded to over 15 cities in India. On the menu are delicious waffles, crepes, pancakes, and more. The most popular of these is the Nutella crepe and banana caramel pancakes. Of late, their Biscoff crepes served with a generous helping of the classic Lotus spread, Biscoff pancakes with whipped cream, and Biscoff waffle sandwich with creamy Biscoff filling have gotten quite popular. To really up the ante on your Biscoff obsession, try their milkshake and cakes which feature the ingredient.
Image: Courtesy 99 Pancakes
Address
Shop 5, Ground Floor, Sitaram Jadhav Marg, Lower Parel, Mumbai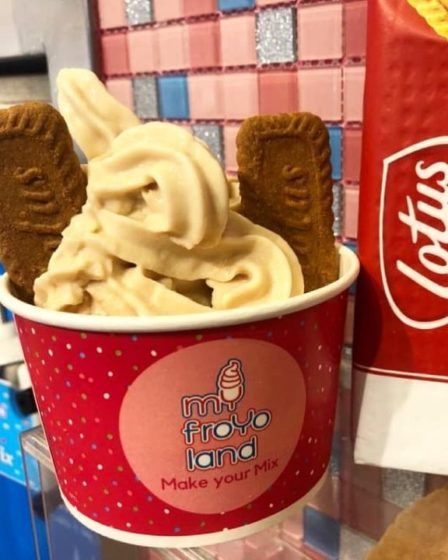 Serving up swirls of delicious frozen yogurt, My FroYo Land holds the key to healthy, delicious snacking when sweet cravings come calling. Make your own cup with flavors like cake batter, cookies and cream, tiramisu, and salted caramel. Or go the Lotus Biscoff route and get their new, specialty frozen treat with the flavour, complete with crumbly cookies on the side.
Image: Courtesy My FroYo Land
Address
Shop 8, Irla Unique Compound, Petrol Pump, SV Road, Vile Parle West, Mumbai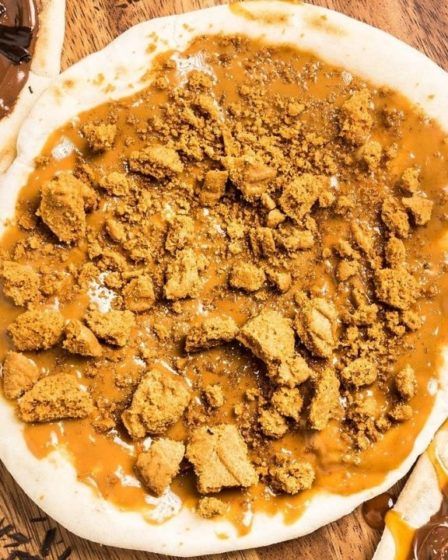 A pizzeria might be the last place you'd expect to be served a Lotus Biscoff treat but The Dough Therapy does just that with their Biscoff pizza. The indulgent dessert comes with their classic, fresh dough, Biscoff and Nutella spread, and Biscoff crumbles. Other popular features on their menu include the three musketeers, burrata, and margarita thin crust pizza.
Image: Courtesy The Dough Therapy
Address
Patel Mahal, Shankar Mattham, 373/10, road, Matunga, Mumbai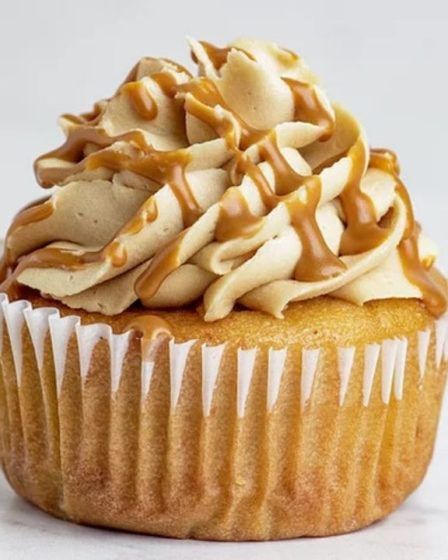 A dessert bar owned by a Le Cordon Bleu alumni, the sweet treats at Essange include a flurry of minimal cakes, cupcakes, donuts, chocolate bombs, brownies, and more! All of the creations come with the finest ingredients and look like a dream. Lotus Biscoff is a popular ingredient here, especially cupcakes. These are moist vanilla cakes with generous Lotus Biscoff filling and are topped with Biscoff buttercream and drizzle. Also on the menu is a decadent Lotus Biscoff cake with layers of buttercream, topped with biscoff biscuits. If that's not enough, try the gooey eggless chocolate brownie with layers of Lotus Biscoff spread and cookies and pillowy donuts, rolled in sugar and filled with Lotus Biscoff spread.
Image: Courtesy Essange
Address
Shah & Nahar Industrial Estate, LR Papan Marg, Worli Naka, Upper Worli, Mumbai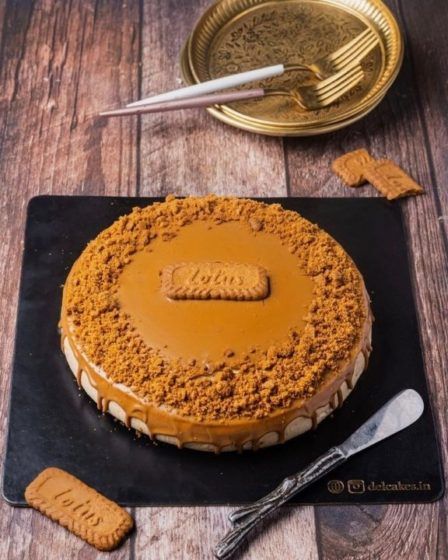 This chic patisserie has served up sweet treats for Bollywood's biggest names, from Alia Bhat to Sonam Kapoor. On the menu are decadent roulage, creamy cheesecakes, indulgent gateaux, and smooth macarons, made to perfection with the highest quality ingredients. Their Biscoff creations include the popular Biscoff gateau which includes a moist, white sponge cake, Biscoff filling, and crushed Biscoff biscuits. Also on offer is the rich Biscoff cheesecake with a Biscoff base and creamy cold cheesecake, topped with Biscoff spread. The assorted strawberry and biscoff macarons make for the perfect gift or sweet snack.
Image: Courtesy Deliciae
Address
Shop No 11, Gasper Enclave, St. John`s Road and, Pali Rd, Bandra West, Mumbai, Maharashtra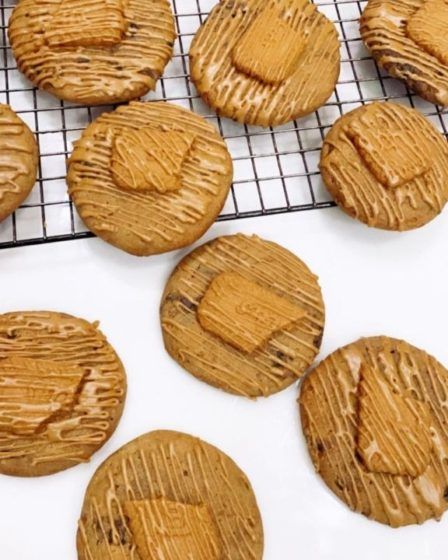 Decadent, melt-in-the-mouth artisanal cookies and brownies are a Cookie Tree specialty. Also on the menu are lamingtons, brittles, and celebration cakes, all of which are made sans preservatives and eggs. To satiate your Lotus Biscoff cravings, the place offers gooey, Biscoff-filled cookies that are topped with Biscoff spread. There's also the Lotus Biscoff brookie cake which features Biscoff filled cookie, indulgent brownie, hand-rolled bonbons with Biscoff, and a Biscoff wave pool.
Image: Courtesy Cookie Tree
Address
Rajshekhar Bose Sarani, Bakul Bagan, Bhowanipore, Kolkata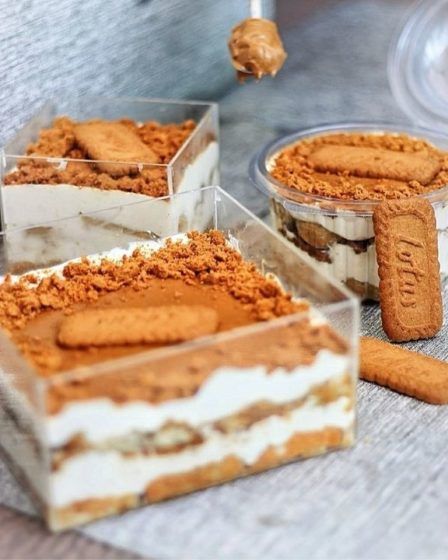 Another artisanal bakery in the city of joy, Caramella by Akshita is a one-stop-shop for delicious tiramisu, especially if you're looking for pocket-friendly options of the sweet treat. On the menu are flavors like Bailey's, strawberry and Nutella, black forest, pistachio and rose, and more. Their most popular option is the Lotus Biscoff tiramisu, which includes layers of fresh mascarpone cheese with Lotus spread, topped with gooey caramel sauce and Lotus crumbs. They also have indulgent Biscoff brownies on the menu.
Image: Courtesy Caramella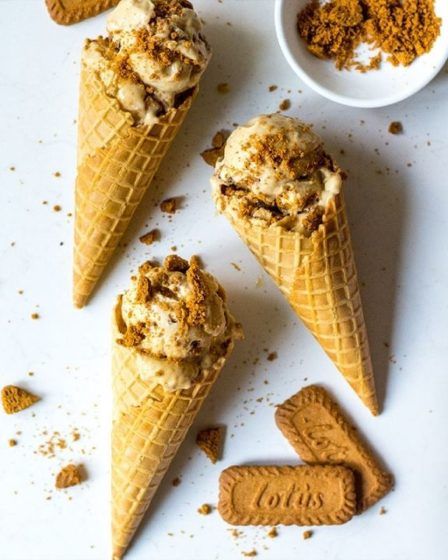 A premium ice cream shop with unique flavors, Dumont Creamery is all about high quality ingredients and delicious flavors. In business since 1999, their menu features classics like banana caramel and blueberry cheesecake as well as more eclectic flavors like campfire chocolate with smoked almonds, South Indian filter coffee, kheer, and cake and jam. For some Biscoff goodness, try their Lotus Biscoff ice cream, topped with crunchy Biscoff bits.
Image: Courtesy Dumont Creamery
Address
4th Block, Jayanagar, Bengaluru, Karnataka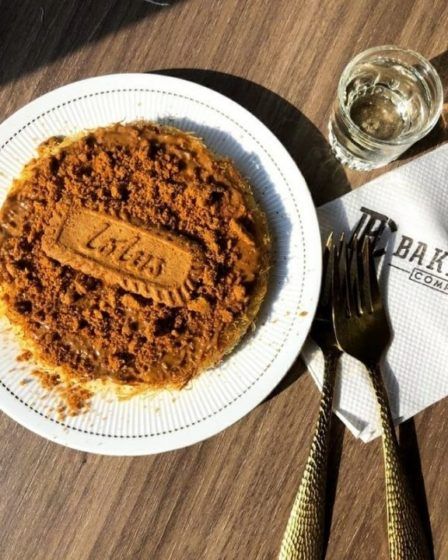 The local go-to for Middle Eastern desserts, The Baklava Company serves up scrumptious baklavas and kunafas. The treats here sell like hot cakes, especially during the festive season and the menu features eclectic flavors of kunafa like cheese, Nutella, Kinder, and peanut butter tahini. For some Lotus biscoff goodness, try their Lotus biscoff kunafa, topped with Biscoff spread.
Image: Courtesy @highway_to_food/Instagram
Address
287/2, 7 A Main Road, 1 Block, HRBR Layout, Kammanahalli, Bangalore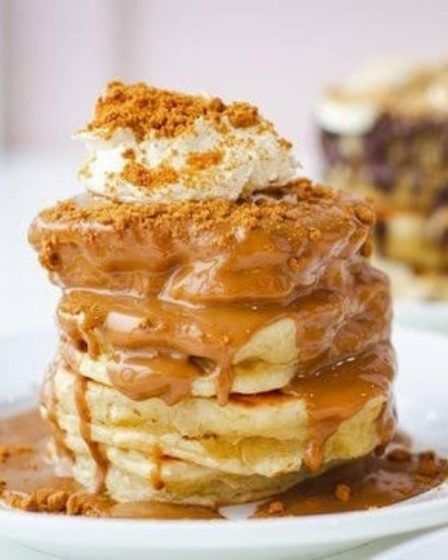 A delightful, laidback cafe serving the most indulgent pancakes, waffles, and crepes, Uncle Peter's Pancakes is a haven for those who love a classic American, dessert-like breakfast. The mango milkshake, blueberry pancakes, red velvet pancakes, and Nutella pancakes come highly recommended. Their Biscoff pancakes, stacked with Lotus Biscoff spread and served alongside whipped cream and chocolate sauce are a must try.
Image: Courtesy Uncle Peter's Pancakes
Address
110, Ground Floor, 18th Main, 100 Feet Road, Indiranagar, Bangalore
An American eatery that specializes in donuts, burgers, wraps, and hotdogs, Super Donuts India has the latest trends in the culinary world on their menu. Most recommended off their menu are the Nutella s'mores, hazelnut blast donut, nutella custard donut, banoffee donut, Boston creme donut, smoked chicken bagel, and keema fries. Also a hit? Their Lotus papi donut, topped with Biscoff cookies.
Image: Courtesy Super Donuts India
Address
O-12, Ground Floor, Chak Chilla, Lajpat Nagar 2, New Delhi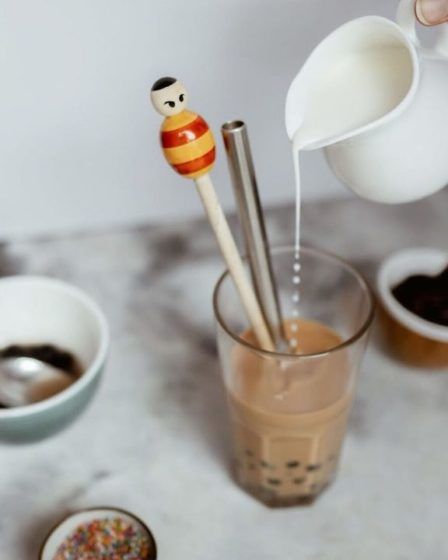 An-all vegetarian restaurant that has delicious Khao Suey and mock-meat curries, Burma Burma is a go-to for authentic Burmese fare. The space has a dedicated, extensive tea menu with a host of slurp-worthy bubble teas in fruity flavors like yuzu and blackcurrant and more milk-based blends like Thai tea and Nutella. Their Lotus Biscoff bubble tea is a creamy concoction, with juicy black tapioca pearls and is topped with crushed Biscoff cookies. The drink has just the right amount of sweetness, making it the ideal choice of dessert for those who'd like to keep their sugar intake low.
Image: Courtesy Burma Burma
Address
S 25, A 3, 2nd Floor, Select Citywalk Mall, Saket, New Delhi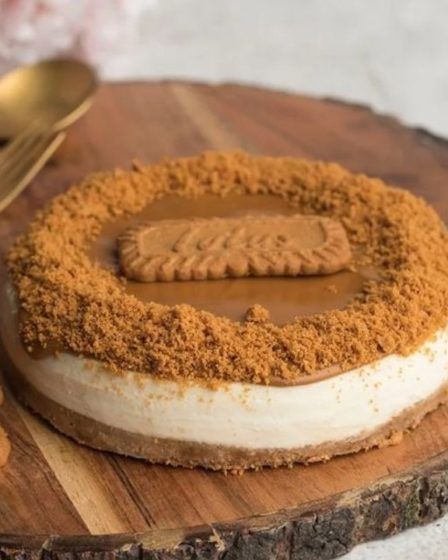 A gourmet bakery serving up delicious cheesecakes, the quality of ingredients and their presentation draws locals to this spot time and again. Popular on the menu are the salted caramel, red velvet, belgium chocolate, blueberry, and classic New York style cheesecakes. For some caramel goodness, try the Biscoff cheesecake, topped with Biscoff spread and cookie crumbs. The spot sells these indulgences by the slice and jar if you'd like to keep your portion sizes small. For a double dose of Biscoff goodness, try their goosey Biscoff brownie.
Image: Cheesecake and Co.
Address
B-8, Ground Floor, Surajmal Vihar, Anand Vihar, New Delhi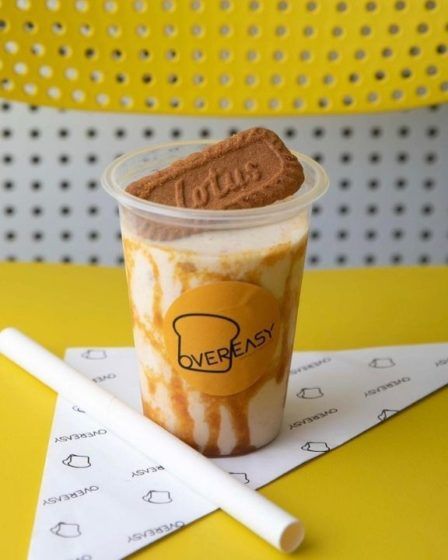 The perfect spot for a cheat meal, Over Easy has a host of toasties with avocado, mushrooms, chilli cheese, truffle, glazed ham, braised lamb, and apple pie as options. Also on the menu are soft-serve sundaes and rich, indulgent thick shakes in flavors like banana split, cookies, and cream, and Nutella. A must-try is their Lotus Biscoff thick shake, with banana and salted caramel.
Image: Courtesy Over Easy
Address
Commons at DLF Avenue, Saket, New Delhi
Feature and hero image: Courtesy Oasiss Desserts